The A-Team Captured! aims to be the most detailed TAT fansite on the 'net. Anyway, he's more about my tortoise(!)
I went away with my folks last week (yeah, I know! anyway...) to the coast. We have family down there, and we gave Tim the Troublesome Tortoise to my cousin Gary as a trial.
Gary has quite a few tortoises, and took Tim to see how he got on.
Last report was that Tim was headbutting the other tortoises, so he's settled in just fine. All of the other tortoi (is that plural? Who knows?! Who cares!!) are women, so Tim (now renamed "Charlie Brown") must think he's in heaven!
I did take a picture of his new home, but my stupid SD card corrupted the picture.
Oh well, he's a shot of my dogs instead, waiting to go on their latest seaside outing!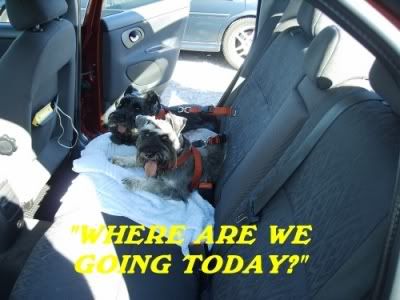 My folks are thinking of moving down there, and I think I might move into the area too - so many places to walk and explore; not like where I live now. My current area is so rough, people steal the bricks from under people's cars!
Anyway, more posts
ABOUT THE A-TEAM
coming soon! Stay tuned!!